Scott Clifton Photography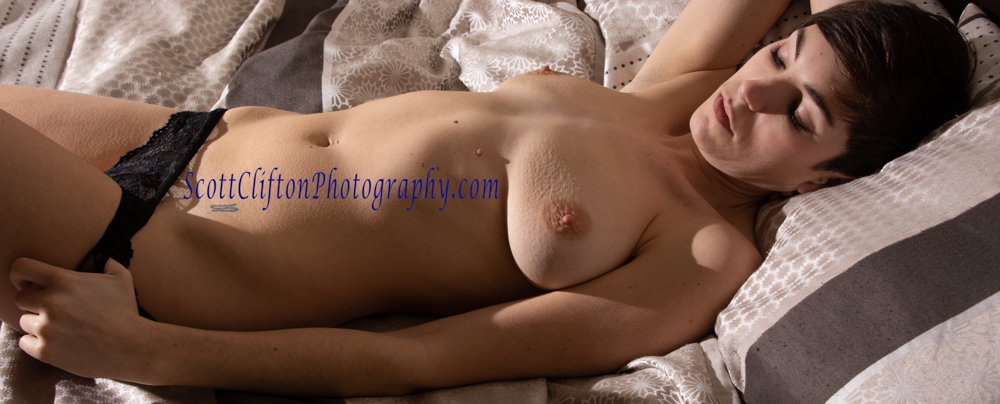 So, are you interested in erotic, nude, adult, boudoir, or glamour photoshoots
Of course, you are? It's a silly question! You wouldn't be here if you weren't? If you know what you want or have a question, why not email me and ask me?
Why Would You Want A Photoshoot?
Well, first off they can be fun. Most of us have an exhibitionist streak, even if it's well hidden. A photoshoot gives us permission to let it out. We can be the centre of attention for a while, guilt-free.

Or, you might need some photos for social media, dating, naturist, or swinging sites etc. Sure, you can take some with your mobile phone, but it's harder than it looks and photos taken close to tend have an unflattering perspective. And there are too many things to think about: holding the phone at the correct distance and angle, checking the background isn't too distracting, making sure the pose and facial expression are ok etc etc. There's a lot to be said for using someone who can concentrate on just the photo and get flattering lighting on the face (or whereever), a natural pose, a neutral background, and get the exposure correct. Ideally, you'll want a set of photos ranging from innocent to naughty, and a photographer can advise on that, and what's the best poses for you.

Or maybe you're part of a couple and you want to rekindle your sex life! If things have been rather sexless of late, posing together erotically might help you break out of a stale routine.

Or maybe you've just got yourself into great shape and you want a record you can look back on, in years to come.

Or maybe you're considering a modelling career, and you want to see how you like being in front of a camera. You'll also need some good quality images for your portfolio as well.

Or maybe you or your partner is body shy and you'd like to improve that.
Why Would You Want Me As Your Photographer?
Well, I try to offer an economical service. I can do this I because I don't have the expense of a studio which I'd have to pass onto you. I'll shoot in your hotel room or home and bring kit such as lights and, maybe a background screen with me.

I offer boudoir, glamour, erotic, adult, and nude styles. A word about aesthetics. I see a lot of adult and 'open leg' photographs thst are frankly horrible! It seems that the desire to show everything has overcome any ideas of good composition and aesthetics! I like explicit photographs (I've got some in my portfolio here) but they have to be attractive or I consider them failures.

I take both still photographs and videos.

I'm discreet, anonymous and non-judgemental. So you might find it less embarassing to ask me via email to take some photos for you, rather than discuss them face to face with a high street photographer.

I always conduct photoshoots so as to be enjoyable for the subject. I usually tether my camera to a laptop during the shoot. This allows us both to see the photos as they are shot, and change things if necessary. You'll soon start suggesting new poses, and have a great time.

If you're thinking of having some nude photos taken, it may be ressuring to you to know that I am a naturist and so am used to seeing people naked.

I am committed to giving my clients good service. I never do more than one photoshoot a day so I can give my full attention to every client. Also, I will stay working with you until you are satisfied with the results. The photoshoot finishes when you are happy, not before!

I work over a substantial part of southern England. This includes Sussex where I live, Hampshire, Kent, Surrey and some areas of London. I'll travel further for particularly interesting work. I cover the Gatwick and Heathrow airport areas, so why not book a shoot if you have an overnight stay before or after your flight?